To keep Intuit® Developers informed and educated, welcome to another article in an ongoing series where we cover new features and improvements in QuickBooks® Online.
QuickBooks Business Network is almost here
In a nutshell: The QuickBooks Business Network is a new service for QuickBooks Online customers to connect with the QuickBooks community. It is designed to help you conduct business with your customers and vendors more smoothly by streamlining your workflow with automation tools. You'll be able to partner with QuickBooks certified vendors, automatically import bills, predict your cash flow, and more.
Join a community – You'll be able to search for businesses that use QuickBooks Online without manually entering their contact information.
Get QuickBooks accuracy – We want to help facilitate your time-consuming administrative tasks like tracking down accurate contact information, to create a hassle-free business management experience.
Safe and secure – QuickBooks takes your security and privacy seriously and will not share your business contact information with anyone outside of QuickBooks.
Integrated accounts payable automation – Sending an invoice to another network member will automatically create a bill for them in their QuickBooks account, ready for their review and approval. They'll also receive in-product bill alerts to remind them to take action.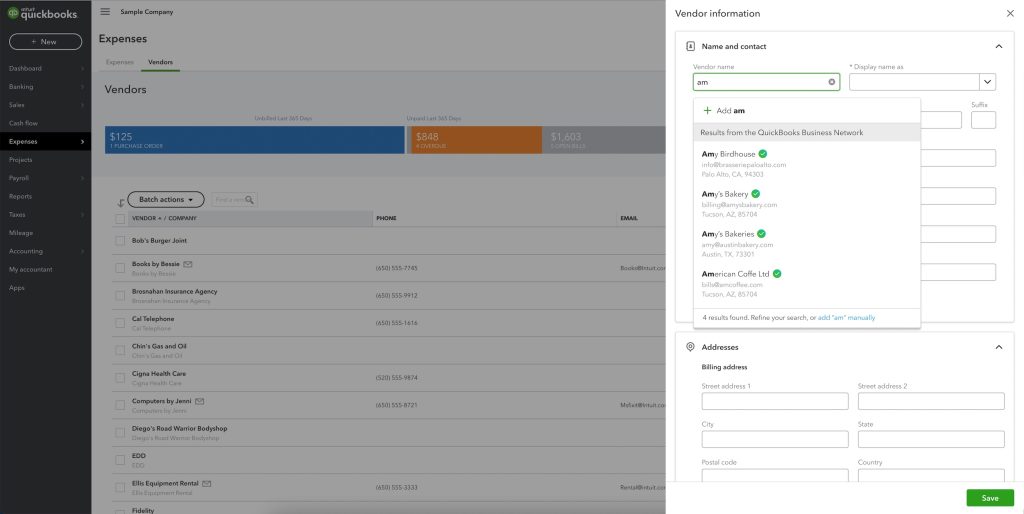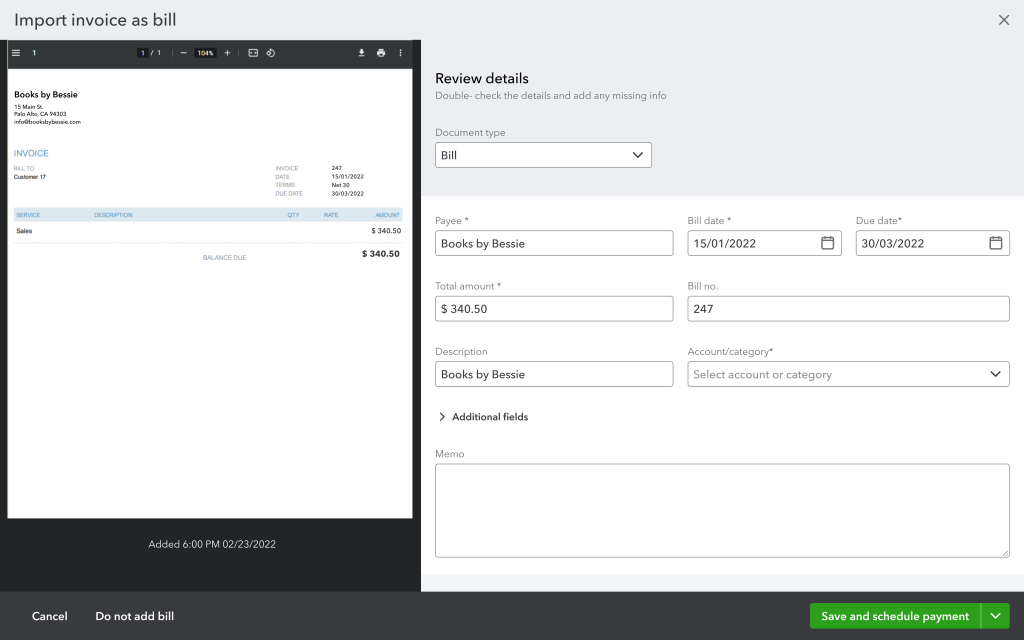 The QuickBooks Business Network and its associated features have started rolling out in phases for small businesses. All customers will have access in summer 2022.
* This information is intended to outline our general product direction, but represents no obligation and should not be relied on in making a purchasing decision.
Automate recurring payments in QuickBooks Online
In a nutshell: If you have a customer you need to invoice every day, week, month, or year, set up recurring payments with the autopay and schedule pay options to save time and ensure you get paid on time, every time.
Autopay – Schedule invoices in advance and let your customers set up automatic online payments.
Schedule pay – Let customers schedule future payments on your invoices.
How to set up recurring invoices with autopay and schedule pay
Create a new invoice.
Select "create recurring invoice."
Schedule preferred frequency.
Autopay and schedule pay options will appear on payment screen.
Watch this video for more information.
Work from anywhere with cloud access to QuickBooks Enterprise
In a nutshell: We've all been exploring newer ways to work efficiently while being remote, especially during the pandemic. Did you know that QuickBooks Enterprise can help you enhance collaboration and visibility by allowing your employees and clients to work simultaneously in a secure hosted environment anywhere, anytime?
Through QuickBooks Enterprise, you can continue your essential accounting processes like bill pay, reconciliation, and paying invoices, even when teams are working remotely.
Automatic backups performed on a nightly basis and retained for 90 days.
Storage ranging from 5, 10, and 50 GB.
Multi-factor authentication.
Remote access to Microsoft Office Suite, and Google Chrome.
Remote access to apps, including Bill.com, Expensify, Tallie, Avalara, Dext, and Qvinci.
Unlimited access to all 250+ apps in the Right Networks (RN) library (depending on the plan).
Learn more about how QuickBooks Enterprise can work for your business. Customers with an existing QuickBooks Enterprise subscription are eligible for 30% off standalone cloud access through 5/14/2022. Call 844-848-0429 to take advantage of this limited-time offer.