The Intuit Developer group is excited to be sponsoring and participating in Developer Week, February 6-12, 2015.
What is Developer Week? DeveloperWeek 2015 is San Francisco's largest one-week tech event series with over 60 week-long events including the DeveloperWeek 2015 Conference & Expo, Accelerate 2015 (1,000+ attendee hackathon) GirlDevWeek Events, Robotics Dev Summit, DevOps Summit, 1,000+ attendee tech hiring mixer, and 60+ city-wide workshops, open houses, meet-ups and drink-ups across San Francisco!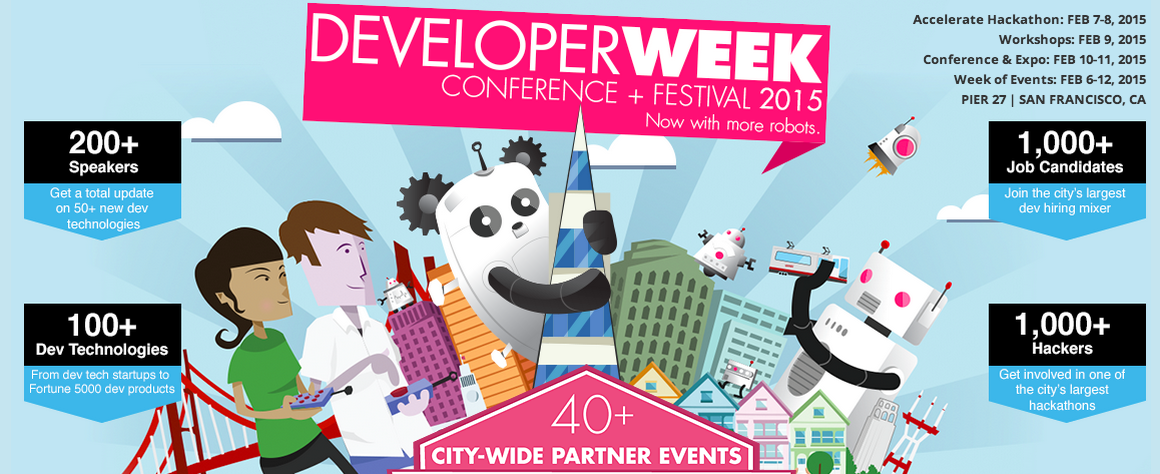 Developer Week kicks off Saturday, February 7th with a hackathon for 1000 developers and designers that have a chance to compete for prizes from a variety of sponsors, including Intuit Developer! Our challenge is simple: build an app that leverages our QuickBooks Online API to solve a small business problem. We will have staff available Saturday and Sunday to answer your technical questions and coach you on making a great pitch. We can't wait to see all of the creativity in action. The winner of our challenge will get an Intuit-branded backpack filled with swag and developer geekery toys.
On Monday evening, February 9th, Developer Week hosts a hiring mixer where developers and designers can network and mingle with up to 50 sponsoring companies as well as individual hiring managers. Intuit Developer will be there, so brush off your resume and check out some of our existing open positions.
The main conference kicks off on Tuesday. Our team will be attending the Developer Evangelist Summit on Tuesday. We're excited to network and share ideas with other like-minded folks who are focused on developers as a customer.
We'll be staffing an expo hall both Tuesday and Wednesday. Take a break from sessions and stop by booth 206 to meet with members of the Intuit Developer team and learn more about the opportunity to solve real problems facing small businesses.
Everything culminates on Wednesday. Our Vice President and General Manager, Avi Golan, will be speaking on the main stage at 11:40am on "The Small Business Opportunity for Developers." Then at 2pm Principal Solutions Architect, Peter Vogel, will lead a workshop on Stage 6 on "Connecting your App with Rich Financial Data: Taking Advantage of Intuit's QuickBooks Platform."
Finally, we'll be hosting a Drink-up on Wednesday evening at Local Edition, nearby on Market St. Come by for a quick drink and socialize with our team and some of our developer community!
Wow – that's a lot of stuff packed into one week! I hope you are excited as I am about Developer Week. See you in San Francisco!