Take your app to the next level with the #SmallBiz #AppShowdown!
Intuit Developer is excited to announce that the 2017 $100,000 Small Business App Showdown contest is officially open for app submissions! This contest is exclusively for developers who successfully publish their app(s) on the QuickBooks App Store between August 16, 2016 and Aug. 15, 2017.
Look what last year's Grand Prize winner, Nick Hoffman of Share a Refund, had to say: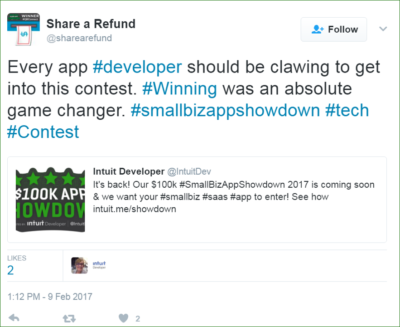 In the $100,000 Small Business App Showdown, every app that enters the contest gets featured in an online gallery that is promoted to 1.8+ QuickBooks Online users worldwide.  Then, 10 finalists are selected to compete on stage for the $100k grand prize in front of a panel of judges and an audience of accountants, small business owners, entrepreneurs and other developers at Intuit's annual QuickBooks Connect conference in November, in San Jose, CA.
Part 1: Any app published on the QuickBooks App Store between August 16, 2016 and Aug. 15, 2017 may be eligible to register for the contest and will be listed in the contest gallery.
Part 2: Encourage your customers to VOTE for your app between August 16 and September 15, 2017.  Along with the voting results, Intuit uses contest criteria to select the 10 finalists.
Part 3: Ten (10) finalists win a featured space at QuickBooks Connect and a chance to pitch to a panel of judges for the $100k Grand Prize!
What do you need to do right now?
Step 1: Build and publish your app on the QuickBooks App Store before Aug. 15, 2017!  This really means you need to submit for publishing before July 15, 2017 to have a higher chance of passing technical and security reviews in time for the contest deadline.  
Then what?
Step 2: Enter the contest!  Once you've published your app (OR if your app is already published), enter your app into the contest, and it will be listed in our contest gallery.
Step 3: Vote!  Between August 16 and September 16, the contest gallery turns into a voting gallery, where everyone can vote for your app to become one of the 10 finalists. Intuit will use the results of the customer voting as well as other criteria (see the criteria specifics in the official rules) to select 10 lucky finalists.
Step 4: Compete! The 10 finalists will come to QuickBooks Connect in San Jose, CA, in November to show off their apps in a featured exhibit space, and will pitch their app to a panel of judges for a chance at the $100K Grand Prize!
What are you waiting for? Publish your app, and enter to win!
=========================
The fine print:
NO PURCHASE NECESSARY. OPEN WORLDWIDE EXCEPT FOR LEGAL RESIDENTS OF CUBA, BURMA/MYANMAR, IRAN, NORTH KOREA, SUDAN OR SYRIA, 18 YEARS AND OLDER. VOID WHERE PROHIBITED. Enter Contest by: 8/15/17 at 11:59 p.m. PT. For Official Rules and prize descriptions, visit SmallBusinessAppShowdown.com. Sponsor: Intuit, Inc., 2700 Coast Ave., Mountain View, CA 94043, U.S.A.