We've got some good news for our developer community! We are thrilled to launch a new Error Resolver tool that will help you build your apps faster.
Error Resolver Tool Overview
The error resolver tool is an easy-to-use search engine that looks up an error code or message and provides suggestions on how it can be resolved. The tool will provide more information about the error as well as some solutions to fix the error so you can push your app live faster. Once you implement the solution(s) provided, you're ready to go! There is no need to search through the community forums or wait for your support case to be resolved.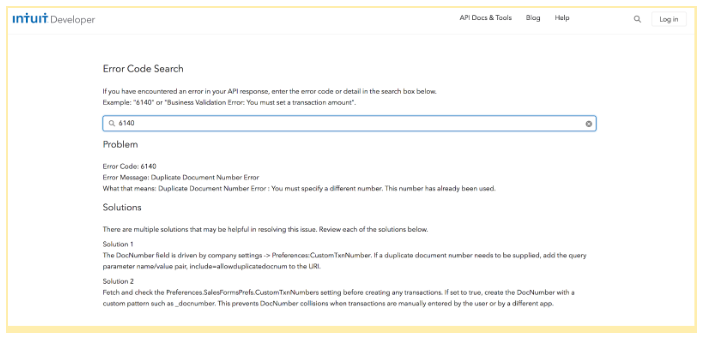 Where to Find the Error Resolver Tool
On the new Intuit Developer support portal, under the Help tab, click on Developer Resources, and look for Error Resolver. Once on the page, look up the error code or message you got, for example, "6140" or "6240". In some cases, error codes are associated with different types of errors so the tool may ask for more specific information, like the complete error message. Search using the full error message, for example, "duplicate document number error" or "you must set a transaction amount," and you should get the answers you're looking for.
What Errors are Covered?
For our initial launch, we've targeted the most commonly occurring errors on the QuickBooks Online Accounting API. The team is working on expanding the repository of errors and solutions and bringing in error data for the QuickBooks Online Payments API.
We hope this tool is a valuable addition to the resources you use when developing an integration with the QuickBooks Online platform. Please give it a try and let us know if you have any suggestions or feedback, do let us know on the developer forum!